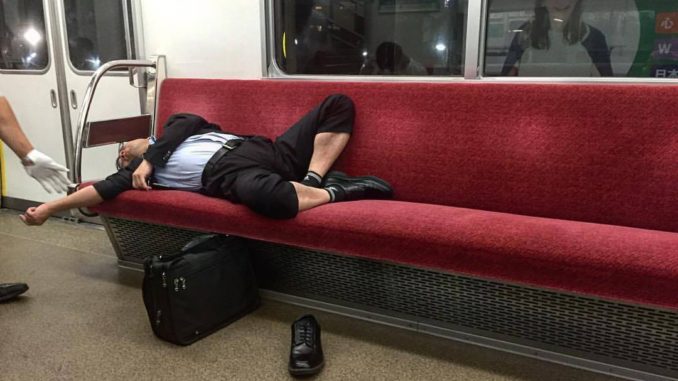 Hello everyone who is excited about drunk Japanese & crazy salaryman on the street, trains or etc,
or you might just be wondering what is "salaryman" in Japan?
Generally the businessmen employed at the companies in Japan are called Salaryman(サラリーマン).
But not only being just the employed businessmen, some of them or we can say lots of them have also special skill as a salaryman.
That skill is how much they can get drunk and show very funny poses anywhere even outside on the street or on the trains!
We are shooting the real, so much drunk Japanese people and salaryman photos, then always updating to share the amazingly funny & crazy moments of Japanese people and salaryman from Japan!
Drunk old Japanese salaryman walking in Golden Gai bar street in Shinjuku, Tokyo
This old drunk Japanese salaryman was walking in Golden Gai street which is known as one of the most exciting bar streets in Tokyo.
Old Japanese salaryman was getting a bit drunk even still on Thursday. He cannot wait for the Friday night maybe.
– Where to meet a salaryman: Golden Gai Street in Shinjuku

Drunk Japanese salaryman relaxing at convenience store after hanami(cherry blossom viewing)
Sakura(cherry blossom) season comes every year in the spring in Japan.
Everyone of course including salaryman is going out and getting drunk. (some are getting really crazily drunk)
They finished viewing sakura flowers quick, then as always just drink a lot and get drunk.
They actually are not interested in the beautiful flowers, they just want to drink or get drunk sadly because they are the Japanese salaryman..
– Where to meet a salaryman: Lawson store in Shinjuku

Japanese salaryman dreaming to be an emperor of Japan in imperial palace of Tokyo
This Japanese salaryman looks like guy was somehow sleeping wildly like this on the ground of imperial palace.
Maybe he quit or was just fired and sleeping like this. We hope he had a good dream like to become an Japanese emperor after the hard "Karoshi" salaryman work.
– Where to meet a salaryman: Imperial palace of Tokyo

Drunk Japanese sleeping on JR Yamanote line train early in the morning of Saturday
This Japanese guy was sleeping on the four seats on the train(JR Yamanote line) very early in the morning of Saturday.
Maybe he hanged out and got drunk a lot on Friday night, and started to sleep on the first train of this loop line of central Tokyo.
– Where to meet a salaryman: JR Yamanote line train in Tokyo

Young drunk salaryman sleeping wildly at Shibuya big crossing!
This guy's salaryman sleeping style was so wild.
Even thought there are lots of people walking just beside him as it's Friday night and people still hang out,
but he doesn't wake up and just keep on sleeping maybe after the hard work and drinking like true salaryman.
– Where to meet a salaryman: Shibuya big crossing

Drunk Japanese with water at Shin-Okubo station
This guy was sleeping at the platform of Shin-Okubo station which is next to Shinjuku station.
It's just located in the center of Korean town of Tokyo, so maybe he had very spicy food and wanted the water.
After drinking the water, because of strong Korean sake or just beer, got drank and started to sleep?
– Where to meet a salaryman: Shin-Okubo station

Old salaryman sleeping beside the vending machine in Shimbashi(salaryman town)
This old salaryman looks more nostalgic than just being drunk and crazy.
This place is just near Shimbashi station which is known as the big salaryman town area of central Tokyo.
There are lots of Japanese bars and restaurants around in this area.
If you want to see tons of salarymen walking around and getting drunk everywhere especially on Friday night, you should visit this salaryman town.
– Where to meet a salaryman: Shimbashi station

* What is salaryman? more in detail
Salaryman(サラリーマン, sarari-man) is a Japanese businessmen.
Why are they called salaryman? Because most of them are just working for getting the salaries even though lots of them are recently getting less salaries and that's sad but true situations in Japan though.
How to decide someone is salaryman or not?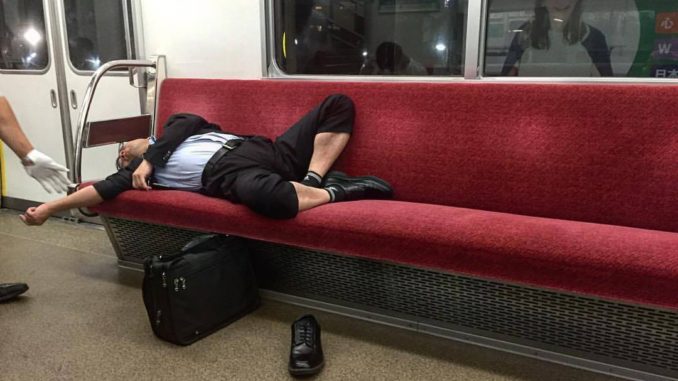 1. Salaryman hates the work, but cannot quit to start own business or even change to other jobs
2. Salaryman is usually a coward to do those and do the different things as other salarymen.
3. Salaryman loves drinking! (beer, sake, wine, cocktails etc) Also lots of them like Ramen too.
4. Salaryman cannot wait for the weekends, so they can leave from the office which they do not like and have a rest at home. But sadly lots of salarymen are disliked by their families.
5. Salaryman is often hated by their family members and often go out to pachinko(gambling place in Japan) or just drinking again on the weekends.
What is salaryman's daily life? (following is just one example of 50's salaryman working at bank)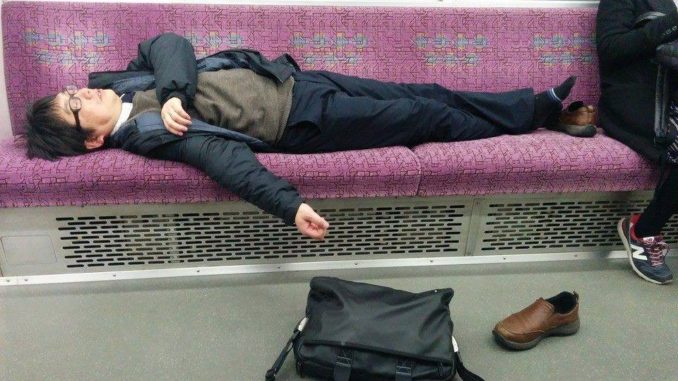 6:00am : wake up

6:30am : breakfast / smoking cigarettes(if they are smoker salaryman)

7:30am : leaving for the salaryman's workplace

9:00am : Arriving salaryman's workplace and start working (or just pretending working * Some of them actually do)
 (Usually they live quite far from the office as they have bought the house for fitting salaryman and his family members * Usually wife and 2 kids)

12:00am : Lunch (Tempura, Soba, curry&rice, Ramen, Sushi etc)

1:00pm : Restart working

7:00pm : Stop working (It's happiest moment for them)
(But lots of them have the overtime working and some are working almost until the midnight or some are till morning..)

7:30pm : Drinking at Izakaya(Japanese style bar / restaurant)

10:00pm : Going to "Kyabakura"(hostess bar) and getting drunk

12:00am : Going home with last train or miss the last train and sleep somewhere (Some salarymans are sleeping even outside on the street as they are drunk..)

Do you want to see how much salaryman is getting drunken in Tokyo?
This is what we have shot on one Friday in Shimbashi, Tokyo which is known as salaryman town of central Tokyo.
He was super drunken, singing some songs and walking around!

Visit I love Salaryman in Tokyo facebook page!
We are updating the latest drunk salaryman pictures taken by many local people in Tokyo and sometimes other locations like Osaka, Kyoto.
Enjoy for more drunk salaryman pictures around Japan!
>>Visit FB page