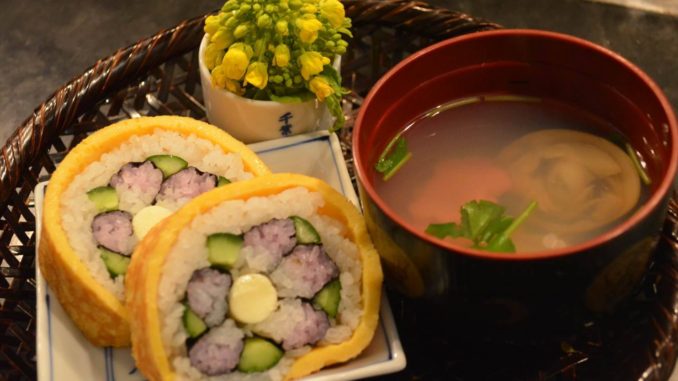 Do you know "Futomaki" (太巻き) or Futomaki sushi?
It's one of the Japanese local foods from Chiba prefecture in Japan.
As it is seen on the above picture, Futomaki is always with beautiful appearance like Peach flower and etc.
Japanize staff has visited "Chizue" (千寿恵) of the traditional and local food restaurant in Chiba prefecture and experienced this amazingly beautiful and good Futomaki with Chizue-san (female owner & chef) who is making local food at this restaurant for over 40 years.
meetup event we have organized
>> Meetup Event Page
>> Facebook Event Page

Chizue (千寿恵) – Japanese Local Food Restaurant
This is the event venue and the female owner offered us the experience.
You can feel really warm and traditional Japanese home style atmosphere at "Chizue" of the local Japanese food restaurant.



Photo from Japanize meetup event photo album



>> Website of Chizue (千寿恵)  * Only in Japanese
meetup event



Photo from Japanize
meetup event photo album



We could have really great time and food there at Chizue this time.
Especially we can feel the warmth by Chizue-san who is very kind and caring us a lot, and of course serving really great and warm Japanese local food.
Talking with Chizue-san and having Futomaki here was like the experience to go back to the family's place and having the home cooking dishes made by mother.
You will definitely feel and have great time for the relaxed and warm atmosphere with good home cooking style food.